Job Board
eMobc, first framework with a job board specializing in mobile application development. Work on projects paid professionals.
Open Jobs current processes
| Profile | Skills |
| --- | --- |
| IOS Developer | Objetive C, AppleDoc, IOS 5 SDK, Interface Builder, Xcode 4, Git. |
| Android Developer | Java, Android SDK, Patterns, MVC, JavaDoc, Eclipse, Git. |
| HTML5 Developer | HTML5, Jquery Mobile, Bootstrap, CSS3, PHP5, OOP. |
New Job Board participate in mobile projects with eMobc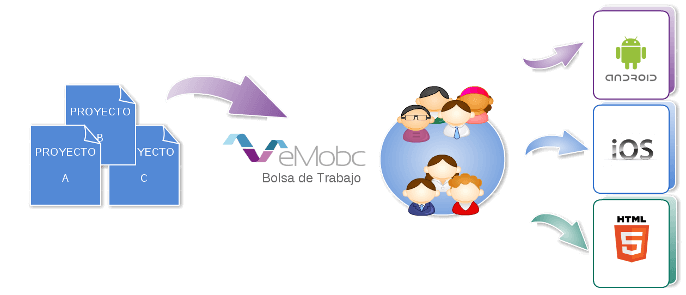 If you want to work in the world of mobile application development, sign up on the job and you can access project posts eMobc professionals.
Create mobile applications requires the participation of various professionals.
In eMobc, we organize working groups to achieve projects. If you have experience or knowledge of interest, please let us know.
As you collaborate on improving the framework, eMobc also takes your input and knowledge of the framework when forming teams of professional work.
Upload the basic data form and we will contact you.